Featured Articles
Featured Articles are the ones that we recommend for you to read before you read anything else. These articles will cover all the main talking points that are prevalent these days and you will be able to grasp exactly what you need via these articles. Our featured articles are very well written and are always worth reading.
Visit our featured articles section to know more.
Public Sector Retirement, LLC ('PSR,' 'PSRetirement.com' or the 'Site') is a news channel focusing on federal and postal retirement information.  Although PSR publishes information believed to be accurate and from authors that have proclaimed themselves as experts in their given field of endeavor but PSR cannot guarantee the accuracy of any such information not can PSR independently verify such professional claims for accuracy.  Expressly, PSR disclaims any liability for any inaccuracies written by authors on the Site, makes no claims to the validity of such information.  By reading any information provided by June Kirby or other Authors you acknowledge that you have read and agree to be bound by the Terms of Use
Beth Cobert – Nominated as OPM Director
/by Admin
It's Not Retirement Time Yet For Beth Cobert – Nominated as OPM Director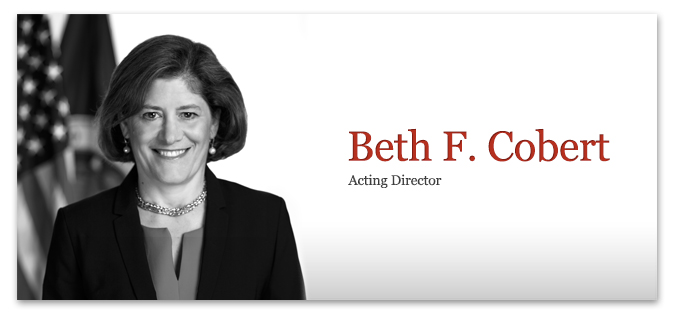 President Barack Obama announced his intent to nominate Beth Cobert as Director of the Office of Personnel Management (OPM). If confirmed, Cobert will get to continue in the position she has been serving in as Acting Director since the OPM retirement announcement of former director Katherine Archuleta.
Apart from being OPM Acting Director since July 2015, Beth Cobert also serves as Deputy Director for Management in the Office of Management and Budget, a position she has held since 2013.
Before that, Ms. Cobert served in various capacities at McKinsey & Company from 1984 to 2013, including as Director and Senior Partner. She received a B.A. from Princeton University and has an M.B.A from Stanford University Graduate School of Business.
Why is Beth Cobert Being Nominated as OPM Director?
Katherine Archuleta was virtually forced to announce her retirement from the post in the wake of the OPM data breaches that compromised millions of federal employees, retirees and job applicants whose data was stolen. The anger was more about the OPM retirement office and other divisions of the agency stonewalling information requests by those affected and refusing to disclose the extent of the data breach.
The issue came to a head after federal employee unions and other organizations representing affected individuals started filing lawsuits against the OPM seeking a disclosure about the data breaches. This was quickly followed by Congressional hearings and lead to the resignation of Katherine Archuleta.
Beth Cobert then took over as Acting Director, and has since done an admirable job navigating the Office of Personnel Management through troubled times and all the security measures initiated as a response to the data breach crisis.
Not to mention that the OPM has to update millions of people about the federal benefits open season and new changes to retirement benefits programs such as TSP, FEGLI and FEHB that are undergoing key periods of change.
It dumps a lot more work on the OPM retirement office, along with a flood of calls from confused federal employees and retirees. Oh, and there's also an across the board federal employee pay raise and ongoing modifications to the General Schedule locality pay system which the OPM now has to factor in.
Since the agency is still managing to do all this quietly without creating any waves, it's no surprise that President Obama doesn't want to rock the boat and has nominated Beth Cobert to the post of OPM Director.